Updated 12-12-2000


THE FROG SANCTUARY
where the frog gifs run wild and free
THANK YOU for making my site one of the most visited frog sites on the Net!! Please vote for us and make this site #1 by visiting the Freaky-Frogs.com Top 25 Frog Voting Page (see below). Have a nice day and PLEASE don't feed the frogs! (we feed them plenty as it is!)
In the meantime, check out the new Frog of the Week and sign my guestbook!!!
---

---
And now... the rest of the frogs.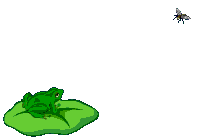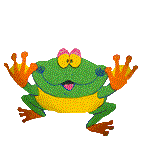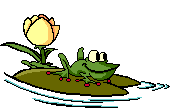 Want to see more froggie animations? --> NEXT PAGE
Thank you for visiting The Frog Sancturary. Feel free to use any of these gifs for your own non-commercial use (RIGHT CLICK AND SAVE!!). I would love for you to include a link to my site, but since none of these gifs are my creation (see below for credits), I cannot insist you do.
This site was originally created for someone who loves frogs more than almost anyone!! Comments and suggestions can be directed to the guestbook.

---
Froggy Links
"Then One Froggy Christmas Eve"
---
Do you like this site? Then Pass-It-On to a friend!!

Sign My Guestbook
View My Guestbook

You are visitor #:
since 1/31/2000
www.digits.com
---
This site has been awarded

The Freaky Frog Award

---

This Hopping Frog Webring Site Ring site is owned by Kyle . Want to join the Hopping Frog Webring?


[ Previous 5 Sites | Previous | Next | Next 5 Sites | Random Site | List Sites ]